JUN META OVERVIEW & CONCEPT
JUN Meta aims to build Metaverse ecosystem that organically connects DeFi, GameFi, P2E, and Community around its core, NFT, and form virtuous cycle for JUN, JUNS, and Game Tokens.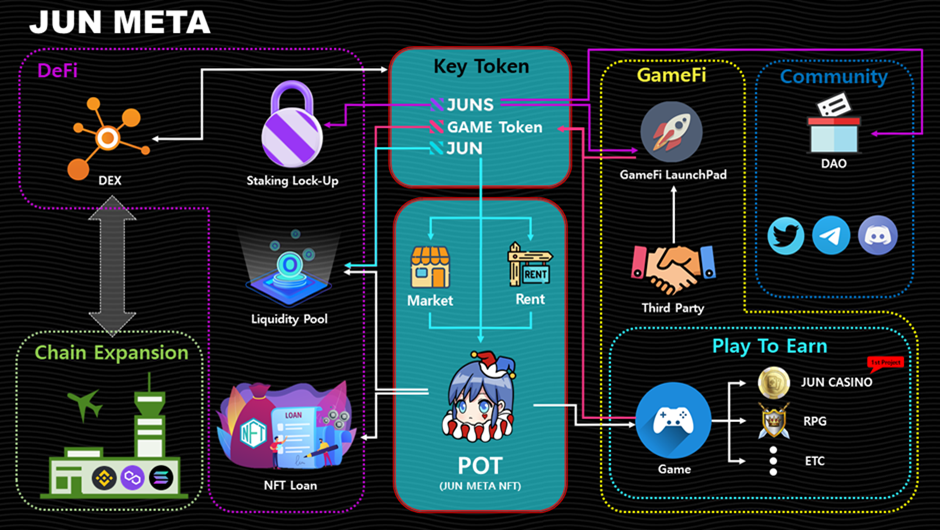 JUN Meta plans to expand its range to build steady GameFi ecosystem and maximize user profit using JUN and JUNS as main currencies, and NFT as a core.
Constant Burning Mechanism is expected reveal through JUN Casino, in-house developed project.
JUN Meta offers a new future for P2E Industry.
Starting with JUNC, liquidity pools using many in-game tokens will be created and JUNS will be distributed as a reward.
NFTs will be a core aspect in JUN Meta. It will be utilized not just in games but in other services as well, including DeFi ecosystem.
NFT is essential part of the JUN Meta.

It is available for Minting and Enchanting using JUN (JUNC can be used for some enchant feature)

It can be utilized in many different ways such as GameFi and DeFi.

Marketplace will be provided for users to actively engage in transactions.

NFT Rent service, which enables users to rent their own NFTs, will be added in the future.

Users with higher level of NFT can make money through various methods.
DEX:

Swaps coins/tokens that flows in/out of JUN Meta through chain expansion.

Locked Staking:

Upgraded from previous JUNS deposit. It is available for deposit in different sets of periods which distributes JUN as a reward.

Liquidity Pool:

Liquidity pool for JUN, JUNS and JUNC is provided. Boosting features using NFT will be added in the future.

NFT Loan

: Users deposit NFT as a collateral for loan.
LaunchPad
- Starting with JUN Casino, many different genres of P2E games will be launched in the future. - We plan to expand our businesses by JUN utilized staking feature and 3rd party recruitment through our own API.
DAO: Using JUNS, our governance token, will be used as a vote system for operation of the JUN Meta. This will structure transparent and independent organization without external intervention.

Operation of game community can make user acquisition easier.

We will develop partners like the Yield Guild Games.

Activates various communication windows like Twitter, Discord, and Telegram.

User activation contributes to brand power.
We plan to secure our position as Global Service through chain expansion.

We strive to evolve the ecosystem by connecting DeFi, Game, and marketplace that centers around NFT.